Now that Lauren's put the new
Moaning Myrtles
merchandise
up for sale, I can reveal that designing it was one of my secret projects. Lauren contacted me at the end of August, and I designed a new shirt, a tote bag, and a frisbee for her to sell at Wrockstock and other wizard rock shows. While designing them, I was really inspired by
Nicolas Saunders' work
, so definitely go drool over his gorgeous designs after you finish reading this.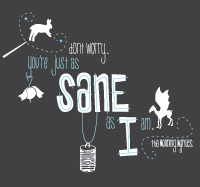 For the first shirt, Lauren wanted the quote "Don't worry. You're just as sane as I am." I decided to draw the type in a very informal way and surround it with simple illustrations of things that have to do with Luna. I tried to make it look like a shirt you could just buy in a store, and not necessarily scream wizard rock from every inch of the design.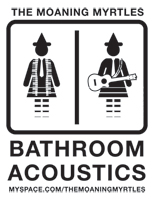 The tote bag was originally another shirt design, but we decided it was more fit for a bag. I had the idea of using bathroom sign pictograms, but making them specific to Lauren and Nina. I really got to play with iconography, making the lightning bolt guitar strap stand for Lauren and the piano scarf stand for Nina. It's a design that you only fully understand if you really know the Moaning Myrtles, but it's also accessible on a basic level to people who don't know them at all.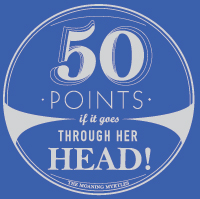 The frisbee was very much inspired by Nicolas Saunder's work which I linked to above. I didn't want to directly copy his aesthetic, so I stayed away from the grungy style and instead tried to make it look slightly old-fashioned but in that magical way that the films do so well.
Thanks for reading guys. I'll definitely have more work to show you soon :)