I was really inspired by the
So You Need a Typeface
poster and figured, why not make one for which YouTube channel to watch? It was a bit of a bigger undertaking than I originally anticipated, taking about 3 days from start to finish. I began by making a list of everyone I'm subscribed to and other popular YouTubers I thought should be on it. Then I divided them into Vloggers, Musicians, and Everyone Else, and just went at making a really ugly graph showing all the different routes. I had to cut some people out since their channels were just too similar to others I had already used, so if you're not on here please don't feel offended. If I included everyone I wanted to it would probably be about twice as big! Finally, I designed this final piece, which luckily, everything fit perfectly into.
Enjoy and let me know what you think either in the comments or on
Twitter
.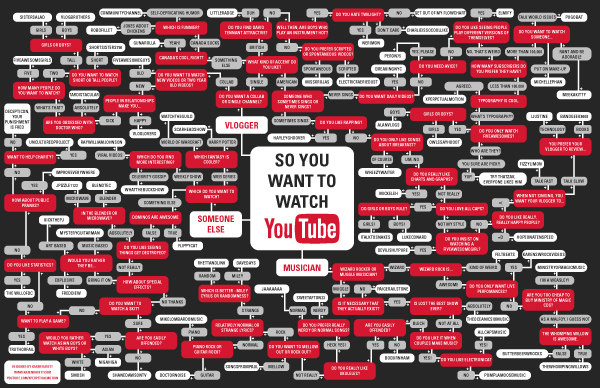 In terms of technical details, I designed it in Adobe Illustrator CS3 (using only a touchpad - my hands were really sore afterwards). The typeface used is Univers Bold Condensed. Since it's vector it could be printed as a poster, but for now I'm only distributing it as a computer wallpaper. If you really want it larger, get in touch with why and maybe we can work something out.
By the way, if you want to watch my videos, I post under the username
xperpetualmotion
. You may enjoy this recent vlog in which I
complain about typography
. And if you want to see more of my design work, click through the rest of this blog or check out
my website
. I will be attending
VidCon
next week, so if you see me there, come say hi!
If you want to share this, here is a short link:
http://bit.ly/youtubechart