Today I'll be showing you guys the custom ukulele and business cards I designed for
Lauren Fairweather
. Lauren asked me to design the front for her ukulele which ended up being a really fun project. She wanted it to be purple and green and gave me the quote "All you need is love" to incorporate into it. I tried to keep it fairly simple since the attention should be on Lauren when she's performing and not entirely on her ukulele. I used transparent purple circles to make an interesting texture for the background and then pumped it up a bit with the green illustrations. Lauren is such a happy and upbeat person and I wanted her ukulele to reflect that.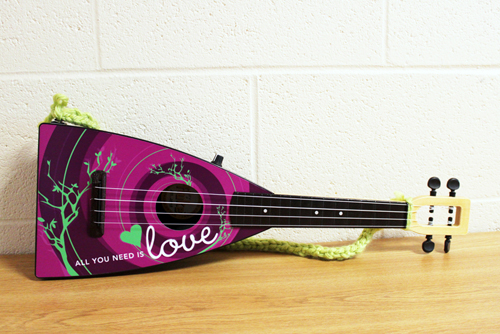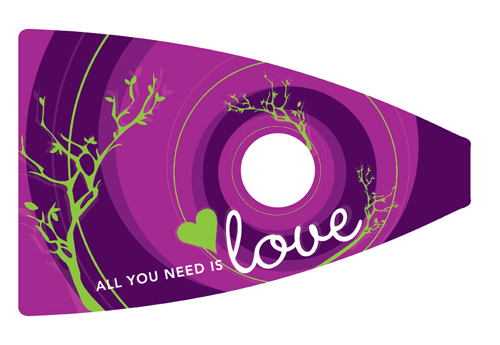 Lauren then asked me to design some business cards for her, to be ordered from
moo.com
. I decided to use a lot of the same design elements as in the ukulele, but then I also brought in imagery of other things Lauren likes, such as owls, dice (for 5AG), music notes, and Harry Potter. I tried to make each card as interesting as the rest, with lots of different levels of imagery and transparency, while keeping them all united with the same four-color color scheme. They look great together as a set and really represent Lauren and what she's all about.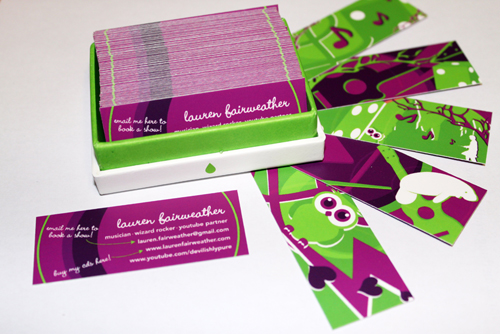 Also, I'm thinking of starting a regular question and answer segment, so if you have any questions about graphic design, art schools, youtube, etc. feel free to leave them in the comments as well (or message them to me through email, twitter, owl post...) and I'll answer them as well as I can in an upcoming post!