So, remember when I said in my last post that I was going to redesigning this blog? Well I never really got around to it during Wintersession and I don't have time to figure it out now, so hopefully it'll get done this summer. In the meantime, I'll continue posting my new work.
On Friday I went to see Alice in Wonderland, and RISD had a "Mad Hatter" contest to see who could make the best hat. I ended up being one of three winners. So that was cool.
When I was making it, I made this sketch and then just jumped right into it.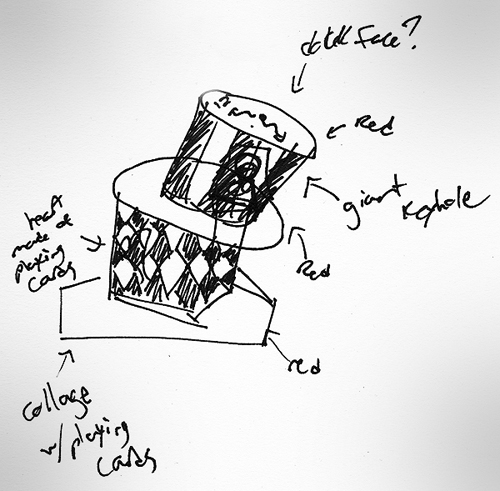 The hat itself is made of chipboard, and it's all held together with duct tape on the inside. Then I covered it with black and white duct tape and wrapped wire around it. The lower brim is made up of actual playing cards that were glued down and covered with packing tape, and the upper brim is covered with lace printed packing tape. Then, I dirtied it up with black and bronze paint, and decorated the top with a custom bow and the number 12, to reference a clock. Let me know if you have any questions in the comments!