This post contains some posters I made back in April but never put on my website. So I'm posting them here so I don't forget next time I update it.
First, my sister asked me to design a poster for her college's production of
Merrily We Roll Along
. I drew inspiration for the posters from the
original poster
. As you can see, some elements are the same or similar, but I also added in some of my own ideas. It was kind of tough since I didn't actually see the play until it was being performed, so I only had the wikipedia article to go off of in terms of knowing the plot and other context.
I don't really have much to say about the poster, because I think it's fairly self-explanitory. I think I'm happy with how it came out, but as usual, there are definitely things I could tweak and change. The typeface used is Futura, and it was printed as an 8.5"x11" flyer.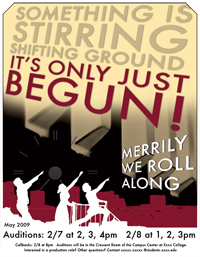 Also, a little while before that, my sister asked me to design a poster for the other show her school had put on,
Lend Me a Tenor
. This poster wasn't advertising the show; instead it was advertising the opera within the show (that makes more sense if you read the synopsis on Wikipedia, linked above). All the text comes from the canon within the play, and the photo is of the guy that played the part of the opera singer in the opera within the play (did you follow that?).
Anyway, I designed the poster to look like it was made in 1934, which meant doing research in my history of graphic design books and old poster websites. I spent a long time trying to get the photo to look painted without it looking like a cheesy photoshop filter, which ended up being kind of pointless since the way they printed it, you couldn't see the texture at all. As for the typography, I don't know if I got it all right, but I tried to use fonts that were popular back then, in the sort of disorganized way that a lot of them were designed. I don't know if it's entirely historically accurate, but hopefully it's close enough.